Welcome
Radiant Health Begins Here
Reservations
Reservations are required for all appointments, and to guarantee your space in classes. Due to small class sizes, we strongly recommend making a reservation. Class drop-ins are welcome, but are subject to availability. You may check online or call/text to check availability.
Virtual Sessions
We are currently using ZOOM for our virtual sessions. You will receive a ZOOM link via email the morning of your session. If you do not receive a link 30min prior to your session, please text our Admin at (303) 444-2739.
Payments
Payment is required at time of service, and all payments are non-refundable. We accept Visa, MasterCard, Discover, American Express, cash and checks. A $35 fee will be assessed for each returned check.
Expiration Dates
Intro 3-pack private Pilates package expires 30 days from date of purchase.
All other packages activate on the date of purchase and expire 12 months from date of purchase.
Cancellations
Boulder Bodyworks does not have front desk support on Saturday or Sundays. To avoid being charged the full price of a private session or group class, all cancellations or schedule changes for Monday appointments or class enrollments must be completed by NOON on the previous Friday. For all other appointments and class enrollments, clients must cancel appointments and classes at least 24 hours in advance in order to avoid the cancelation fee..
Arrival Protocol
Please remove your shoes and silence your cell phone upon entering the studio.
Please avoid wearing scented perfume or oils.
Our Administration works remotely. Please wait in the reception area and your therapist will be with you shortly. If you have any questions, text our Admin team at (303) 444-2739. 
COVID Protocol
Please do not come in for 14 days if you:
Have symptoms of any kind.
Think that you might have been exposed to someone who is sick or suspects COVID.
Been to any gatherings with people outside of your immediate family (funerals, party, wedding, Thanksgiving, Christmas, Hanukkah etc.).
You or a member of your household has traveled.
If you answer yes to any of these, we ask that you please reschedule your session for a later date. If you or someone in your household has traveled or has been exposed, we are asking that you please get a COVID test with no less than 7 days from the last day of travel or exposure. Please note: some tests will take up to 4 days to get you your results, so please plan for this when booking your next manual therapy session. Thank you for honoring our cancellation policy.
Mask Policy Effective 3/2/22
Treatments with David and Elizabeth: A KN95 or equivalent mask is required.
Acupuncture, Massage Therapy & Manual Therapy: A surgical mask, KN95 or equivalent or well fitted cloth mask is required.
Mask Policy for Pilates: All Pilates clients who are vaccinated and boosted have the option of wearing a mask. Proof of vaccination is required. Please email [email protected] or text (303) 444-2739 an image of your vaccination card.
For our Pilates clients: At this time, we ask that you continue to please wear a mask when you enter the building and when using the restrooms as there will be others who you will be sharing space with who are vulnerable.
If you need to purchase a KN95 mask, we have them for purchase for $3 each. We also have disposable medical masks available for no charge.
Please do not hesitate to contact us with any questions regarding your specific situation. We are all in this together and we are doing our best to keep our business open and to keep you, our therapists and our community safe.
In addition to these procedures:
We have air purifiers in the manual therapy treatment rooms.
A UVC light and hospital grade disinfectant are used between clients.
Elizabeth's clients are using her side door to limit people in the reception area and to prevent "cross over" when in and out of the building.
We have very small Pilates classes – only 5 people maximum.
About Boulder Bodyworks
Founded in 1999 BoulderBodyworks is a uniquely transformative experience. Our passion is helping people to improve their health, fitness and well-being through our integrated team based approach to bodywork, movement and exercise. With small class sizes, calm energy and the expertise of highly trained therapists and teachers, we take an individualized approach to healing. Working with people of all ages and abilities, we provide Pilates for both rehabilitation and fitness as well as Therapeutic Massage, CranioSacral Therapy, Yoga, Acupuncture and Comprehensive Manual Therapy.  Join us on your journey to develop greater body awareness, improve your posture, have less pain and live your life more radiantly.
You will love the friendly and communal environment, small class sizes, calm energy, and the care and expertise of our therapists and teachers. We invite you to join us and embark on your journey to Radiant health.
Location
1301 Yellow Pine
Boulder, CO 80304
Hours of Operation
Monday – Thursday  8:00am – 7:00pm
Friday  8:00am – 5:00pm
Saturday  9:30am – 1:30pm
Sunday  Closed
Phone Support Hours
Monday – Friday  8:00am – 10:00am & 1:30pm – 4:30pm
Parking
Free parking is available just steps away on Yellow Pine Avenue as well as on both 13th and 14th Street. If you do not find parking directly in front of our building there is a beautiful park just one block east at 14th and Yellow Pine and there is parking on all three sides of that park.
A Team Approach
Whether you are recovering from an injury, experiencing pain, or want a more fit physique, we are here to treat, support and guide you. With our team of expert bodyworkers and movement specialists all under one roof, you can benefit from our collaboration, or you can choose to work with just one of us.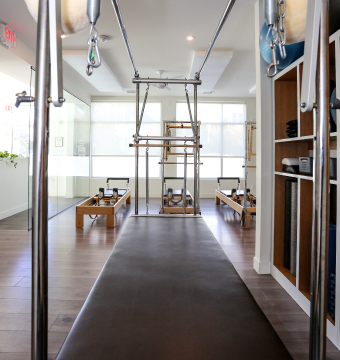 "I suffered from periodic back spasms for twenty years. The last few episodes put me in the hospital. I gave up golf and basketball, and had trouble with a hike of more than a few miles. About a year ago I started Pilates at BoulderBodyworks. The back problems have disappeared. A few weeks ago I played 72 holes of golf in two days. I'm playing basketball again, although my teenager is still beating me. Oh well, there are no miracles, but Pilates has truly changed my quality of life."
– Michael