Small Group Pilates Classes
Classes at BoulderBodyworks are kept small so that you get more personal attention and instruction. We offer classes on the mat, reformer and on the Tower/Pole system ranging from therapeutic to advanced levels. Each of our 55 minute classes will focus on full body toning and conditioning. Expect to be challenged, leave energized, and feel more radiant.
Due to the class size being limited, all classes are by pre-registration only. You are welcome to register up to the time of the class.
Offering both virtual and studio classes.
Class Types
If you are new to Pilates or if you have any injuries or chronic pain issues, we highly recommend that you schedule a Private Pilates session before enrolling in one of our group classes. If private sessions are out of the question, we welcome beginners to participate in either the Level I/II classes or to contact us directly to discuss your experience and health history.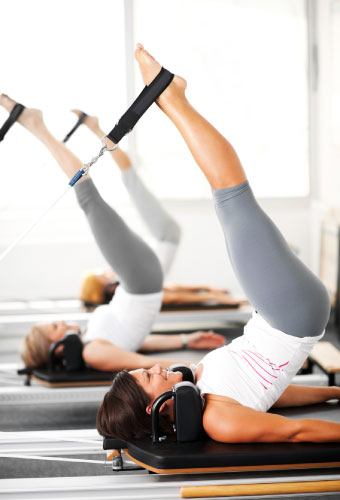 Reformer Class
The Reformer class incorporates springs, straps, bars, pulleys and a rolling platform to deeply strengthen and condition your whole body. This class will leave you feeling longer, stronger, and more energized.
Equipment Class
Each week, students work on a different piece of Pilates equipment, rotating between the Reformer, Tower/Pole System and Low Chair. Participants will see the results of increased strength, balance and coordination from this fun and invigorating class.
Advanced Mat/Equipment Class
For the experienced Pilates client who is skilled, strong and ready for a challenging workout. A fast paced class with an emphasis on coordination and movement integration. This class will have a heavy emphasis on the Pilates Mat exercises but it will also incorporate different pieces of Pilates equipment rotating between the Reformer, Tower/Pole and the Low Chair. Prepare to have an invigorating, enlivening experience.
Therapeutic Reformer Class
Therapeutic Pilates is ideal for people who have neck and/or low back vulnerabilities; have had joint replacements or spinal fusions; or for those individuals who wouldn't usually take a class due to pain or lack of flexibility. Special emphasis is placed on body awareness, segmental spine stability and correcting faulty movement patterns. 2 private sessions and/or teacher approval is required.
Therapeutic
Ideal for people who have neck and/or low back vulnerabilities, joint replacements, or spinal issues. Two privates or instructor approval is required in order to enroll.
Level 1
This level is for beginners. You will learn and build upon the fundamentals of Pilates.
Level 2
For intermediate students who know the fundamentals of Pilates. You will learn more challenging exercises and move at a faster pace.
Level 3
For advanced students. You will be introduced to the most advanced exercises and concepts of the Pilates Method.
Mixed Level
All levels can participate fully at their capability in a group setting. Each student will be challenged and engaged.
"I have been taking mat classes at BoulderBodyworks now for almost six months and I am so pleased with both my experience and my results. I feel taller! I feel stronger! I notice that I am less likely to "tweak" my back when lifting or bending as I learn how to care for my spine in daily life. I've always been an active, athletic person, but I feel healthier and wiser about my body nowadays. I'm looking forward to getting longer, leaner, and more in tune with myself every week."
– Jenn Erickson
See our Pilates Class Schedule